There is no such thing as a perfect house! Be it classic, modern or even brand-spanking-new, chances are there will be issues found that need to be brought to your attention during the course of a Home Inspection.

Alabama House Whisperer uses HomeGauge Home Inspection software to report these issues complete with color photos and other attachments, and deliver them to you anywhere in the world with a click of the computer mouse. You can book, view, print and comment on your Home Inspection and report right here on our web site. No more lengthy emails and attachments to fill your email inbox. You and your agent (with your permission) are sent a link, user name and password that takes you straight to the report!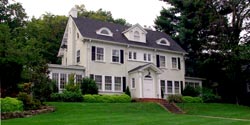 Here is a sample Home Inspection report of an approximately 30 year old house recently inspected with typical issues.
Many are of the mind that new construction with all of its implied warranty coverage does not need to be inspected. Here is an example of a New Construction Home Inspection Report for a new home Alabama House Whisperer recently inspected. As a result of the inspection, all repairs were performed prior to closing and there was no need to make warranty claims!